The minute I saw Tiny Epic Kingdoms by designer Scott Almes on Kickstarter, I knew I wanted to make a storage solution for it.   Not every game, especially a micro game, needs a storage solution, but TEK is a little different from most micro games.  Tiny Epic Kingdoms benefits from a storage solution for all those wonderful bits for each player, plus such a great 4x game deserves a fine place to rest between plays!
The average micro game is very, very component lite.  Tiny Epic Kingdoms, being a 4x micro game, actually brings a nice pile of components to the table.  We have engineered a custom storage solution for TEK that will get your games underway in the absolute minimum of time, and your new TEK chest will be the envy of your gaming buddies.  Plastic baggies are a thing of the past for you and Tiny Epic Kingdoms!
This licensed design was developed working with the white box components recently received from the manufacturer.  It is considered final, but we will have a final check with Gamelyn Games later this year, before we start producing the chests, to ensure everything works together perfectly!
Tiny Epic Chest – A Tour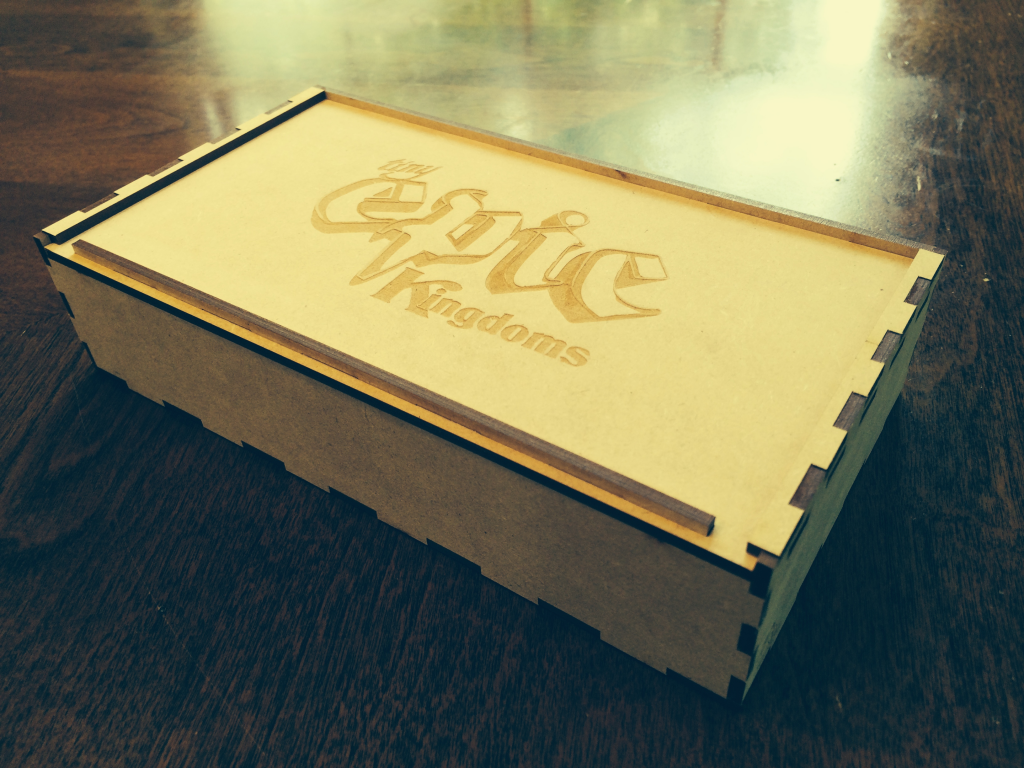 The chest is cut from 3mm HDF.  The HDF provides a very smooth, substantial feel in hand and the chest has some nice internal features, including support for the TEK Deluxe Edition.  On top, the Tiny Epic Kingdoms logo is engraved, and on the right side (not shown), the Gamelyn Games logo is engraved.  After all, logos make everything better!
Let's have a look inside…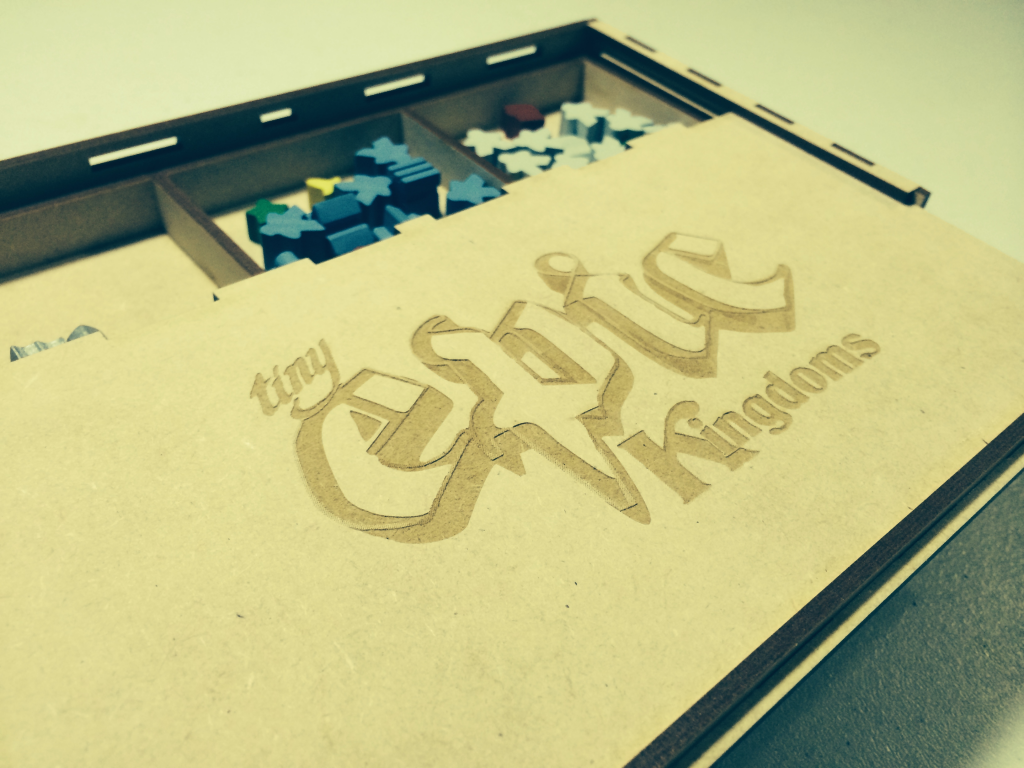 Upon opening the chest, you will note the similarities to our bit boxes.  This chest is larger than our bit boxes, but it employs the same lid rail system.  Once opened, you will discover a six compartment tray to store your player bits, as well as the shield action tokens.  The first player tower can be stored with the shields or placed below this removable tray.
Just below the removable tray on the left is a custom token storage area for the exploration tokens.  In the center is the card storage area, which features a cutout to allow the cards to be quickly and easily removed.  While the exploration token area is sized perfectly for the provided tokens, the card storage area has some room to accept new cards (promos or expansions).  The area to the far right is a great place to store your dice.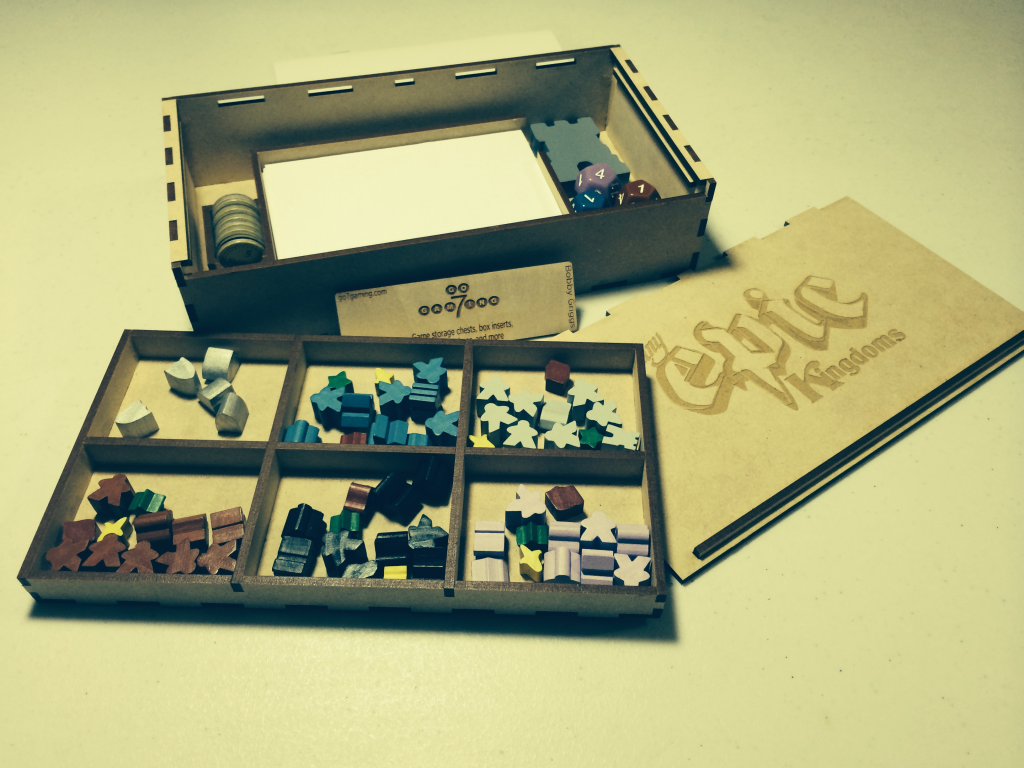 There is plenty of room for two or five dice, depending on which version of the game you have.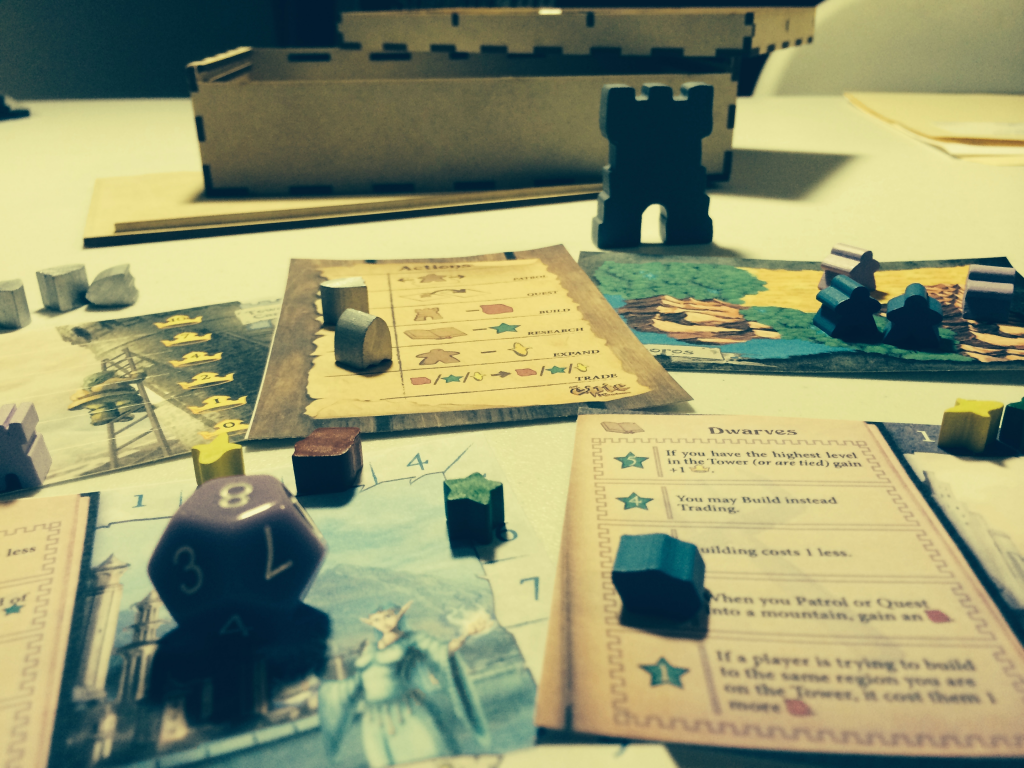 Tiny Epic Chests are available now!
Of course, while you have a spare moment, you should definitely check out Gamelyn Games' latest Kickstarter featuring Tiny Epic Defenders!  A sweet little cooperative micro game for 2 – 4 players that promises to deliver at least as much fun as Tiny Epic Kingdoms!