Go7 offers a wide variety of token designs, including engraved and non-engraved tokens.  It's important that you understand the process used to create our tokens and how they will arrive to you.
Non-Engraved Tokens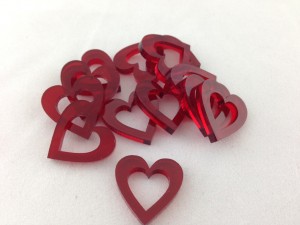 Our non-engraved tokens will arrive in a poly bag ready for use.  These tokens are cut from various colors of acrylic with the protective mask removed, so when you open the bag, they are ready for play.
Engraved Tokens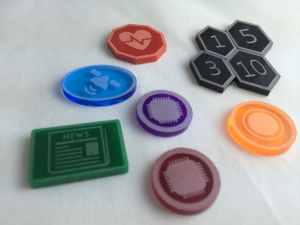 Our engraved tokens arrive in a poly bag with the paper mask still on them.  The process used to engrave acrylic creates a stream of vaporized acrylic that clouds any exposed acrylic.  Small engravings and low-power vector engravings can often be achieved without mask, but our engravings tend toward the large side of things.  For this reason, we leave the paper mask on tokens that include engravings.  Removing the paper from your new tokens is relatively simply (you will need a fingernail, however) and will generally not take more that five or ten minutes.
Once you have removed the paper mask, there will often be some residual adhesive on the edges between the engraved and non-engraved areas of the tokens.  I generally just rub the token a few times with my fingers, but you can also wash your tokens with warm soapy water and then dry them with a microfiber cloth.
We continue to experiment with new methods of producing engraved tokens without paper mask and we hope to offer all of our tokens 100% ready-to-play in the future.