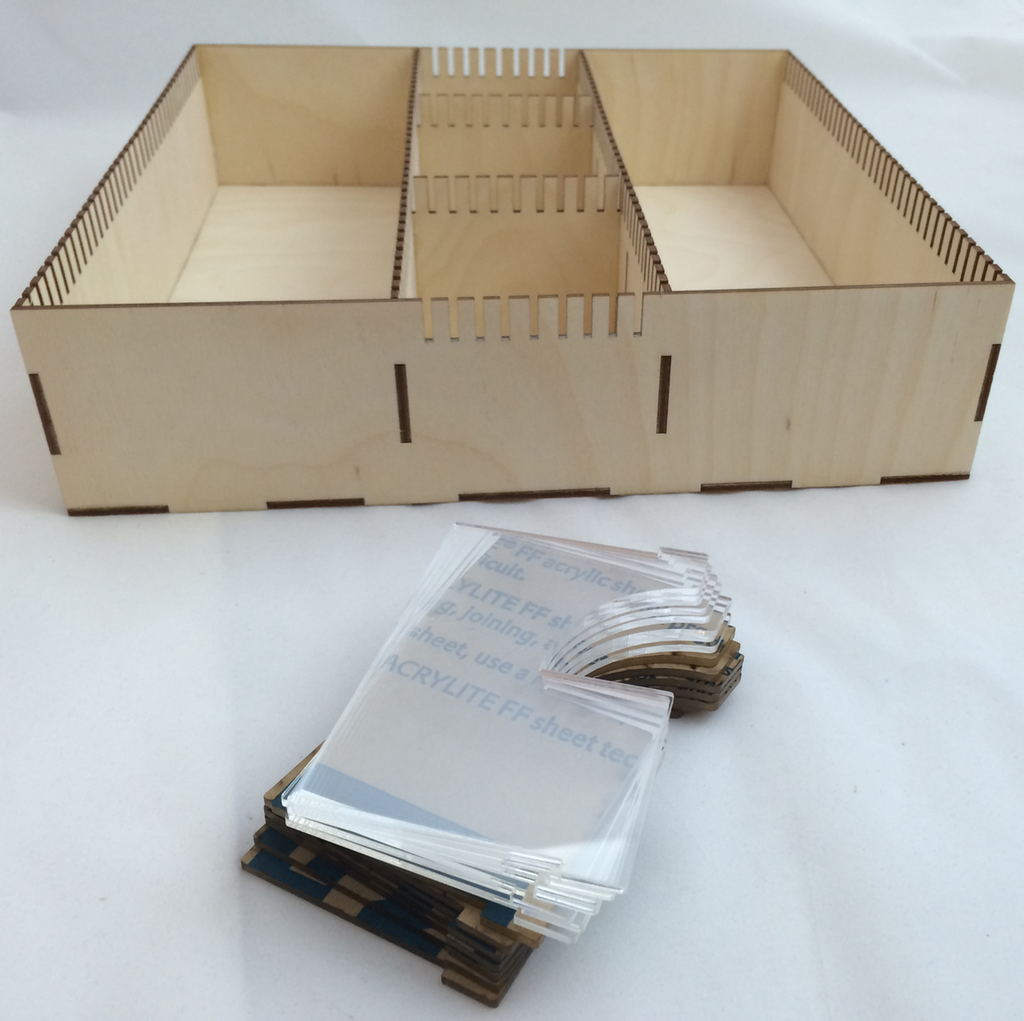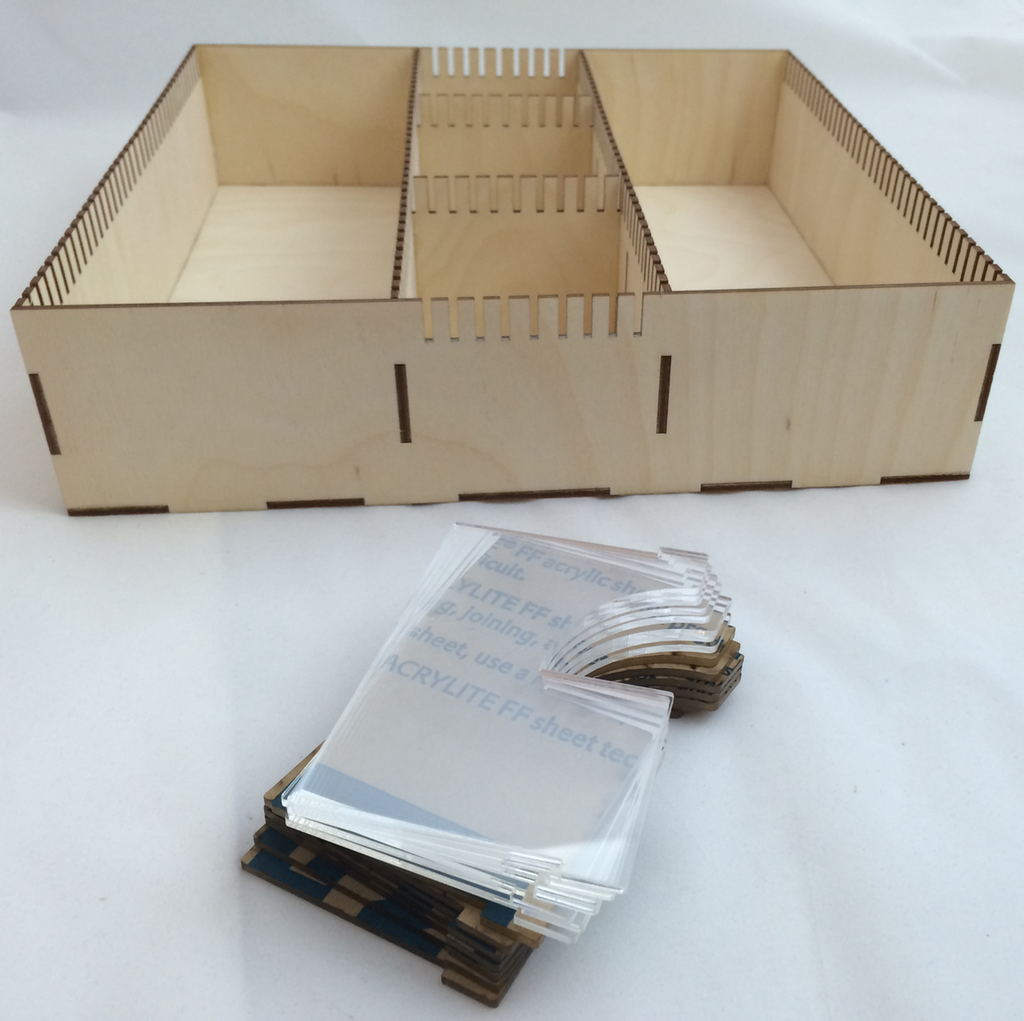 This insert is designed to fit inside the following game boxes:
Warhammer Invasion: The Card Game
Lord of the Rings: The Card Game
Call of Cthulhu: The Card Game
Star Wars: The Card Game
A Game of Thrones: The Card Game
Android Netrunner: The Card Game
Original Thunderstone (big box) &

Thunderstone Advance (big box)

High Command, Hordes/Warmachine (core box)
This insert is similar in design to our LGC-001, but provides 2 full lanes that are 100mm wide and two small, adjustable center lanes that are also 100mm wide, but store cards sideways. The two smaller center lanes are adjustable in terms of layout. You can configure them to place a small bit compartment in the center of the insert, or against the insert wall. The insert is 70mm high (for those FFG sleeves. These design features allow the use of FFG sleeves and euro sleeves.
Product Notes
This insert measures 286.5mm x 286.5mm x 70mm high (11.28″ x 11.28″ x 2.75″) and provides three (4) organizational lanes for horizontal card storage. There is zero clearance at the top in standard LCG game boxes for rulebooks, etc. If you have the "new" FFG LCG box, this insert will rise 1mm above the top of the box.  It has ~15mm clearance at the top of Thunderstone boxes for the game board, rulebooks, etc. Finally, this insert has ~5.62mm clearance when placed in a big High Command box.
This insert has wide lanes due to the arrangement of lanes. Recommended sleeves include Ultra Pro Deck Protector, Mayday Premium, Dragon Shields, and FFG sleeves.
This insert has 718mm of card lane storage. It can store ~2393 unsleeved cards or ~1432 Mayday Premium sleeved cards (.50mm per card) or ~1324 Ultra Pro Deck Protector sleeved cards (.54mm per card). Keep in mind each acrylic divider will also use 2.286mm of card lane space. The values used for the card thickness estimate = .3mm.
Image is of prototype using 3mm Baltic Birch. Production insert uses HDF wood product.
This insert is constructed of HDF (wood product) and is natural colored. HDF does not contain a wood grain as it is a constructed wood product.
Includes fifteen (15) clear acrylic dividers (model LGC-DIV-004). Additional divider packs of type LGC-DIV-004 should be used. The DIV-004 design allows for the attachment of Post-it Durable Hanging File Folder Tabs (adhesive) for divider notes.
Insert assembly requires some wood glue and about 15 minutes of assembly time. I recommend Sobo Craft glue or another comparable quick setting, tacky glue.
This is a third-party, non-licensed product.